MOGADISHU, Somalia (HORN OBSERVER) At least two children were shot dead and eight others injured after Somali government forces fired live bullets to stop teenagers and underage boys fleeing from forced recruitment of soldiers in Mogadishu on Wednesday, mothers of the children and local journalists said.
At least one of the teenagers was shot dead by the security officers guarding the camp outside Mogadishu airport. The camp which hosts Somali marine forces is few metres outside the Mogadishu's Aden Adde Airport facility. 
"I came here this afternoon. My son Mustaf Iman Mohamed Farah was forcibly taken away from me seven days ago. I have not seen him for seven days now. I do not want him to be recruited but the officers refused us to enter here," said Faduma, the mother of 16-year-old Mustaf Iman. 
A group of women were just beginning their protest when three military pick-up vehicles mounted with machine guns arrived and forcibly dispersed the women forcing them to retreat back to the Yardimeli hospital gate. 
"I am appealing to president Hassan Sheikh Mohamud to have mercy on us and release our sons," Fadumo added. 
SECOND DAY PROTEST 
According to the these women, the Wednesday afternoon protest was the second one this week.  Another group of women were dispersed from the General Gordon military training camp in Hodan district on Tuesday after they got a tip that the newly recruited soldiers will be airlifted to Eritrea and Egypt. 
Somali government officials are yet to comment on the matter. However the mothers are saying the two men responsible for the fresh recruitment drive are Maslah Ali Sheikh, president Hassan Sheikh's nephew and another man named as Abdirisak Eritrea.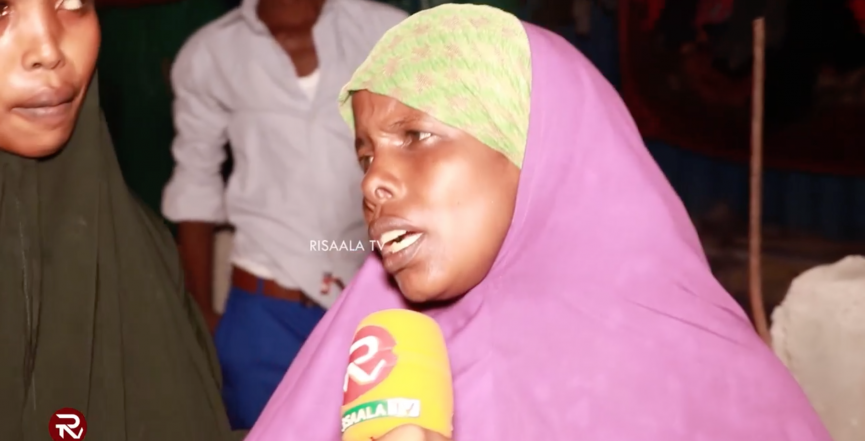 "My father is mentally ill and we have only one brother who is now 14-year-old.  He was abducted two weeks ago only to be found in the General Gordon military camp. Now we heard that these boys will be taken to Eritrea but some of them died as they were trying to escape," Asha Abdi said. "Why is the government forcing young children into military recruitment?," she adds. 
She said the boys were trying to escape when they were shot by the officers guarding the camp. 
Another woman stated her 16-year-old son was first lured by teenagers. However, when she traced he was found at the military camp and her complaint was never heard. 
"I was standing at the gate since yesterday. Nobody listened to me. Then they transported all the boys to this camp near the airport. Please, help us [president] Hassan Sheikh and save our sons," she says. 
The new soldiers recruitment drive begins amid a recently reported agreements between Somali president and Eritrea and Egypt.  Egypt has been reportedly recruiting thousands of soldiers in Somalia in a project funded by the United Arab Emirates amid an escalating power struggle with Ethiopia in the Horn of Africa.
Somalia possesses the largest number of children who have died during war in the world. Somalia's ongoing civil war led to drastic measures, including child recruitment into armed forces.  As of July 2022, the United Nations reported that a total of 1,030 children (933 boys, 97 girls) were abducted for recruitment in Somalia. 
Meanwhile, earlier on Wednesday Somali defence minister, Abdukadir Mohamed Nur said  the first group of 5,000 Somalis who were sent to Eritrea for military training has returned to the country.