Baidoa, November 15, 2022– ATMIS Police in SWSS Sector 3, Baidoa led by ATMIS Police Ag. R, R&D Coordinating officer SSP Ndili Munyau Alex and other IPOs from Baidoa held a High-Level strategic Meeting with SWSS President, HE ABDIAZIZ Hassan Muhamed-Laftagareen at his Presidential Palace. The purpose of the Meeting was to discuss Force Generation for SWSS through the Recruitment of officers by the Federal Member State.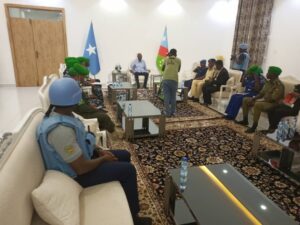 SSP Ndili outlined to HE the President that ATMIS will help the Federal Member State during Recruitment with Vetting, Processing and Medical Examination of new Recruits to ensure that the Officers joining the SWSSPF are physically fit to carry out the challenges of Policing the Communities. He further explained that ATMIS will hold a Training Workshop for the Recruitment Committees to be established by the Federal Member States so as to equip them with adequate knowledge of Recruitment Guidelines prior to the actual Recruitment.
In his response HE the President Applauded the SRCC and ATMIS Police Officer in Charge for sending the high-level Delegation to SWSS for this very important Meeting on Force Generation in the region. HE excellency the President highlighted that there is a critical shortage of Manpower Under State as Many Officers died in the line of Duty hence the need to urgently Recruit new Officers to close up the gap, with the first batch to contain a minimum of two hundred(200) Recruits.
HE excellency the president assured the August House that he will announce the date of Recruitment within this month of November 2022, through the SWSSPF Bay Regional Commander, Col AMIIN Muhamed Usmaan in order for the Police Training to Commence as soon as possible.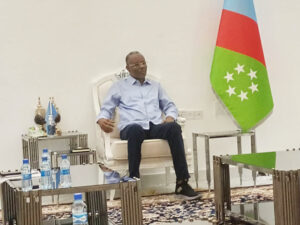 Later CSP Ndili and team held a farewell meeting with all IPOs under Baidoa where he thanked the IPOs on behalf of the Ag.ATMIS Police Officer in Charge for all the efforts they are putting in to achieve the ATMIS Mandate. Speaking at the same meeting ATMIS Ag.coordinating Officer for Baidoa CSP. Samuel Olufemi Aborishade thanked the team from Mogadishu and assured them on behalf of all IPOs that the team will continue working together as they engage with SWSSPF in order to achieve the ATMIS mandate .
On giving feedback to the team leader,ATMIS IPOs under team site Baidoa informed the Ag. R,R&D coordinating officer that they wish now to start engaging the Communities in the IDP Camps through Community Policing in order to relay information directly to the Communities to counter Radicalization for Violent  Extremism.
Meanwhile Capacity Building Specialized Training in Financial Intelligence Crimes entered second day today at Baidoa Police Headquarters.